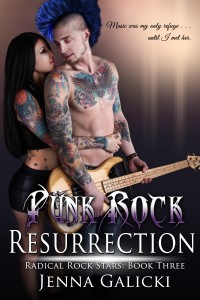 Book 3: Punk Rock Resurrection (stand-alone)
My world was dark and filled with pain.
Loneliness gnawed at my soul.
I found solace in a bottle.
Music was my only refuge . . . until I met her.
She was a dark Gothic goddess in thigh-high leather boots.
She brought light into my life and showed me what it was like to be loved.
But could she handle the demons that haunted me . . . and the vices that kept them at bay?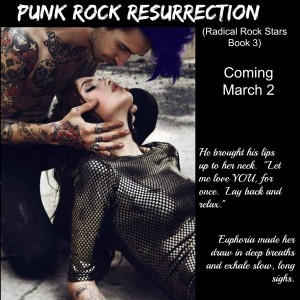 I loved this story. Just like the other books in the series, this one sucked me in and wouldn't let go. Unlike the others, this isn't a gay romance. Since this book happens before the others in the series, it can easily be read as a stand alone. For those of you that shied away from this series because of the gay romance, give this book a try. I promise, once you read it, you will fall in love with all the characters and want to know more about them.
I did have one issue, that was the timeline. The events of this book occur BEFORE The Prince of Punk Rock and Between a Rock and a Hard Place. That threw me off a little, but once I realized that, things made a lot more sense. I loved getting to see some of the beginning of Immortal Angel. It just made me love their characters even more. They are so dedicated to their art.
Damien just broke my heart. He's on his own, but has too much pride to willingly accept help from anyone. Alyssa makes him want to be a better person. But he's fighting so many demons that it's not easy.
I highly recommend one-clicking this fabulous book ASAP.
Amazon
Alyssa held up her shot, and Damien held up his half-full tumbler. She clinked his glass. "That's a pretty big shot you got there."
"Big is an understatement. I like to use the term huge. And impressive."
She laughed. "Oh really? Don't set yourself up for failure"
His eyes never left hers as he took a big swig of his glass. "Don't take my word for it. You can judge for yourself."
She folded her arms across her chest and stared back at him with a smile pressed into her plump, crimson lips.
He finally silenced her. "What's wrong? No comeback? No witty retort?"
"I have plenty of witty comebacks. I'm just not sure how far I want to take this tonight."
His cock was doing back flips, and she was enjoying watching him squirm. He took another gulp of his drink, while hers remained untouched on the bar. "I thought you wanted that shot. Can't handle the hard stuff after all, huh?" He placed his empty glass on the bar and taunted her with a smile. "I bet that hard-ass exterior is really just a front. Underneath it all, I bet you're just a girly-girl."
Her eyes opened wide, and her face went blank. For a minute Damien thought he went too far and pissed her off. He was about to apologize, but she picked up the shot glass and drained it, then slammed it down on the bar. She grabbed his shirt and pulled him so close he felt her breath on his lips. "I'm an expert at dishing out the hard stuff. I wield a needle for a living and pierce it through raw flesh without an anesthetic. The question is, can
you
handle it?"
Her self-righteous smirk mocked him with playful satisfaction, but Damien was about to keel over from the overwhelming heat that covered his body. Tiny dots of perspiration broke out on his forehead, and he was starting to think that maybe she was right—he couldn't handle her in the bedroom. Had he finally met his match? Could this gorgeous, ferocious woman break him? Could she be the one to make him surrender and beg for mercy?
"What's the matter? You look a little stunned. Did I scare you?"
"Hell no." He stepped closer. "You got me excited."
Book 1:The Prince of Punk Rock
I love her, but I also love him.
She's everything to me.
He sets my world on fire.
It's our dirty little secret, and it's about to blow our record deal sky high.
I'm Tommy Blade, the Prince of Punk Rock, and this is our story.
Book 2: Between A Rock and A Hard Place (read after book 1)
She's a rock goddess.
He's a sex pistol.
I need them both, in my life and in my bed, and I'm not living without either one of them.
I'll do whatever it takes, even if it costs me everything I've ever wanted.
I'm Tommy Blade, The Prince of Punk Rock, and this is the continuation of our story.